Time traveling gardeners wander the world & time to fix paradoxes & create gardens with artifacts recovered from their travels. Discover the intrigues of the Time Society, protect the world , & help your fellow time travellers!
This is the iDevice version of the popular Facebook game: Gardens of Time. Combining beautifully drawn hidden object games with quest driven leveling, Gardens of Time-Mobile provides hours of fun and creativity.

Please note, the game is currently experiencing technical difficulties as Rock You migrates the game away from Playdom. Visit our forums for all the latest info! http://gotmobile.freeforums.org
WHAT'S NEW?
---
September 2nd: Arrrgggh me mateys! It's Pirate time over on our forums; be sure to join us for all the fun starting September 7th!
Check out our thread at: http://gotmobile.freeforums.org/viewtopic.php?f=1&t=3856
---
September 1st: Congratulations to the winner of the August Theme Garden "Personal Choice", Lady Bee with Bee's Whimsy, Bee's Water Garden and Bee's Flutterby.
---
Be sure to vote on our latest poll regarding your frustrations with Rock You [
HERE
]
---
Aug 26th: The transition of mGoT from Playdom to Rock You has not gone well. Many continue to receive the "could not contact servers" error and others have had their gardens reset to level 1. Tickets with support have been unanswered after weeks of the submission date and information with RY via their forums remains minimal or non-existent at best. Read all about it on our forums at: http://gotmobile.freeforums.org/viewtopic.php?f=54&t=3705
---
June 20th: App update available that includes consent to transfer game to RockYou in order to continue playing Gardens of Time. More discussion and details on the iGoT Game forum.
---
June 2nd: RockYou updated their transition FAQ post with information for the Gardens of Time mobile transition. For more info go to: http://gotmobile.freeforums.org/playdom-in-the-news-possible-got-future-t3193-180.html#p75407
---
May 14th: Many of us are opting to place comments on RockYou's comment section. First, to expose non-members to our forums and second to let RockYou know we are eager for them taking over our game. Visit this link for more information: RockYou comment section.
---
Apr 18th: Hope lives!! RockYou to purchase and assume operations of three games from Disney Interactive including Gardens of Time mobile. Check out the official announcements by Rock You and Disney Interactive (a.k.a. Playdom)
---
Jan 30th No new news....no game updates since Halloween....has PD/Disney forgotten about us? We know Blackwood & Ball is closing soon, but what's in store for mGoT? Even the PD forums have been down since before Christmas. Read all about our mGot woes at: http://gotmobile.freeforums.org/
---
Nov 2nd: LAmour wins our monthly themed contest! Read all about it here: http://gotmobile.freeforums.org/october-theme-garden-favorite-book-poll-t3088.html
---
Oct 1st:there is a problem with our system of weekly active symbols. With the release of ios7, there is limited backwards compatibility with the emoji keyboard. We have altered the weekly symbols for the next month to ensure the emojis that are in use are visible to all. We are working on a long term solution, in the lab. Please visit here for a list of Octobers active weekly symbols http://gotmobile.freeforums.org/weekly-active-player-symbols-t448.html#p55660
Our September contest gardens winners, for the theme Gothic Gardens, was a tie! Congrats to MennoniteMom & Mec311. Enter Octobers theme "Favourite Book" here: http://gotmobile.freeforums.org/october-theme-garden-favorite-book-t3005.html
---
Sept 19th garden expansion to 26X26 available for 100g
Sept 19th: new premium chapter released "Return to the Midnight Zone" 40g
Sept 16th: Plot Line - Dialoge 27-41 has been uploaded to the wiki, a big THANKS to Ajn2702 from the iGot Game Forums http://gotmobile.freeforums.org
Sept 12th: new TC chapter released: Get into the Groovy
Congratulations to Tory on winning the August Themed garden contest, Time:
http://gotmobile.freeforums.org/august-theme-gardens-seasons-of-time-poll-t2865.html Visit the forums, our next themed garden contest is entitled "Gothic Gardens"
Sept 5th: Chapter 44 released - A Wrinkle in Thailand. Read more about it here: http://gotmobile.freeforums.org/chapter-44-a-wrinkle-in-thailand-t2882.html
Sept 1st -many are experiencing problems loading the game. Learn more: http://gotmobile.freeforums.org/got-offline-t2870.html
Sept 1st -many have lost the ability to invite ten random neighbors a day
---
August 29th: new TC chapter released: Finding Foreverland
August 22nd: Chapter 43 released - Gardens of Thai. Read all about it here: http://gotmobile.freeforums.org/chapter-43-gardens-of-thai-t2844.html
August 15th: new TC chapter released: Rebel With A Cause
August 7th: New premium chapter released: Darjeeling Unlimited (40g; but prices may vary)
August 1st: new TC chapter released: A Midsummer Night's Scheme
Congratulations to Helsbelsandcats on winning the July themed garden contest.
---
July 25th: Dory posts about new blitz scenes! Visit our Blitz page to check out The Royal Ball & Liberty Bell.
July 25th: Chapter 42 released: A Time to Kilt
1,750,000 rep needed to open all five scenes
July 18th: new TC chapter released: A Very Important Date
July 11th: Chapter 41 released: Double, Double Time's in Trouble
1,660,000 rep needed to open all 5 scenes. Check out which buildings give the best rep here
July 4th: New TC chapter: Quincy's Time Travelling Adventure
---
June 28th: Congrats to June's monthly themed garden contest winner: MennoniteMom
June 27th: new feature chapter released Independence, Declared (40 gold, prices vary)
June 20th: new TC chapter released: Finding Independence
June 14th: New chapter released: Chapter 40: Quitting Cold Turkey
June 6th: new TC chapter: Once Upon a Time Crystal
June 4th: Freeforums are currently experiencing some unscheduled downtown. Support will have them up and running shortly; thank you for your patience!
---
May 30th: New chapter released: Chapter 39:Turkish Delights
May 23rd: new TC chapter: Kindergartens of Time
May 20th: new 24X24 grid expansion
May 9th: new TC chapter: Jamaican me Crazy
May the Fourth be with you! Join us in our Star Wars fun thread
May 2nd: Chapter 38 released: Desperate Times call for Desperados
---
April 30th: Garden Expansion to 23x23
April 26th: Muggle Blitz begins-If you're not a forum member, sign up now!
April 25th: New Time Crystal Chapter released: The Garden Society TY to X3mom for quest info and Dory for pic
April 18th: Chapter 37 is released: Once upon a Crime in Mexico
April 11th: New Time Crystal chapter released: Chauncey's Eggcellent Adventure
April 4th: new game update, new grid expansion 22X22 (55g), new feature chapter released "Return to Atlantis"
---
March 28th: RIP our beloved fellow gardener, Patakas
March 28th: New Time Crystal chapter released:The Spirit of the Rings
March 21st: Chapter 36 is out! Released today - The Tip of the Iceburg. Also today, Playdom has released their mini-games.
March 10th Join us this month in the Easter Activities!
March 7th: New Time Crystal chapter released: There's No Place Like Oz
Mar 2nd: We have a new look and name; check out iGoT Game forums today!
---
Feb 27th: New Feature Chapter released: Lulu's Lucky Day (40g but prices may vary) Expansion 21x21 Gold purchase only! 40g...no 50g...wait a minute..55g! Watch it change price before your very eyes!
Feb 25th: don't forget a new game update is available, version 3.6 Green Arrows have been removed while editing, TY Playdom!
Feb 24th: Updated the FAQ-Upgrading page with new information on material storage
Feb 23rd: We're recruiting for the Lab, learn how to become a Botanist today!
Feb 23rd: we're testing how gifting works today (Saturday) as PD has changed the rules but posted no new information on what the actual changes are. If you'd like to help, please visit here
Feb 21: Yet another Time Crystal Chapter released: A Winter's Tale.
Yet again, it's 14 days. Requesting 10 TCs/day for 14 days=140. Average random drop rate of crystals=20% (average of 35 over 14 days). # of TC required to complete chapter? 240. You can only accrue 175/240 crystals meaning you will have to buy the rest with gold. Read all about it here.
Feb 15th: PD adds in Limit Exceeded error messages with both gifting and material requests. Please familiarize yourself with the changes to GIFTING SYMBOLS.
Feb 14th-Chapter 34 released: The Spanish Gardeners. 1,100,000 reputation required to open all scenes. Happy Valentines Day 💘
Feb 7th: Blitz scenes have rotated to Pamukkale Springs,Kakadu and Lunar Landing
Feb 6th: Don't be a lurker! Join our forums today and contribute your thoughts on gifting symbols, your garden remembering its highest rep, tips & tricks to help get your reputation higher, tapjoy & earning gold for your garden, & many other exciting topics!
Feb 1st: Chapter 33 released - Cloudy with a Chance of Spain
---
Jan 28th: our host forum is experiencing some connectivity issues today. From support: Good day everyone,
We are currently experiencing some intermittent connection issues. The engineers are aware of it, and will have it resolved as soon as they can.
Thank you for your patience.
Jan 24th: We're taking a poll on changing the Gift Symbols. Make sure to cast your vote!
Jan 24th: New Time Crystal chapter released: Lunar New Year
Jan 19th: Game down for a lot today, again. No changes evident. No changes to friend management, garden expansion, water/snow tiles.
Jan 18th: Game was down, new update, several changes (alphabetized inventory, smoother material & gift acceptance mechanics)
Jan 17th: new Premium Chapter released: Spring Eggstravaganza (40 g, expires in 32 days) Pic by Dory!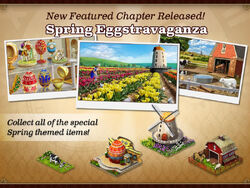 Jan 10: Chapter 32 - The Lyin' King released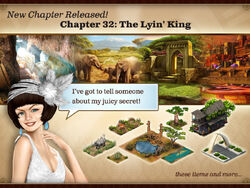 (TY for pic
Dory!
) No expansion or water tiles (:cry:)
==Stripes== mentions incoming changes to help with friend management. Many of us notice we've had neighbours removed from our friends list, no one explains why.
Jan 9th: Weekly Emoji Active Player symbols updated. Big thanks to Singedkitty & Dingy and the test group for working hard to identify 23 new emoji's we can use for the weeks ahead!
Jan 9th: Device Poll is now closed, thanks to all who participated.
Jan 7th: Irregularities with using the # for month of January (it defaults to No. in garden name). If you use the emoji # or kb # all users can still find each other searching with #.
Jan 2nd: Chapter 31 released: Kenya Dig It? 
---
Dec 31st: Happy New Year! Now...go take the
Device Poll
and help us sort out the new emoji symbols for 2013.
Dec 27th: Another Time Crystal Chapter released: Lulu's Winter Wonderland
Dec 21st: you can ONLY send 30 gifts per day!! Read all about it here: http://gotmobile.freeforums.org/gift-test-2-results-t1619-20.html#p26559
Dec 21st: New chapter released-Chapter 30: What Stayed in Vegas! No grid expansion. No water or snow tiles. On the plus side, though, the world didn't end.
Dec 14th: New Time Crystals chapter released: Parisian Painter Part III
Dec 7th: New Chapter released: Chapter 29: What Happened In Vegas (pic by Dory)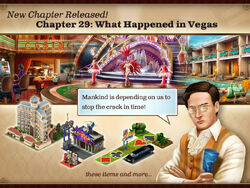 ---
Nov 30th: new premium chapter released - Chauncey's Christmas Carol. 40g (but prices may vary). New "Free Invites" quests; add your fellow
forum
members not random invites! One new blitz scene added,
Thanksgiving Pageant
. TY
Dory
, for the pic :)

Nov 29th: new holiday app icon released. Fixed iOS 6 & image rotation problem. There is suppose to be new holiday decorating items but they haven't shown up yet.
Nov 22nd: Chapter 28 released: Denmark's the Spot. 780,000 to open all scenes; you need an average of 1969 rep per square. The ONLY silver purchase buildings that meet the 1969 min rep requirement are casagwa ruins, ivy tower, & ivy wall. All one square buildings. Without buying gold purchased buildings, only a third of your wonders will achieve 1969, and you'd need to upgrade a hundred one square silver purchased buildings which would take months. What is Playdom thinking? We have a maximum grid size of 20x20; in the Facebook version of the game, by chapter 27, Amy tells us they already had a grid of 31x31!
Nov 18th: all decorations & artifacts can now be upgraded to level 5!
Nov 15th: Amy has stripped out more dialogue for the Plot Line - Dialogue Premium Scenes for Ch 18-23
Check it out if you've ever wondered what goes on the gold premium scenes that many of us never buy!

Nov 15th: Chapter 27 released! Time out of Joint
Nov 11th: New Premium Chapter released: Turkey Time (purchase price 40g - prices may vary)
Nov 8th: Additional dialogue posted for Plot Line - Dialogue , thanks Amy!
Nov 2nd: Chapter 26 released! The Original Prince of Thieves
---
Oct 27th:
Posted dialogue
for chapters 18-23. It's linked under the top menu under "The Toolshed"

Oct 25th: New Chapter released: Chapter 25 Green Eggs and Nottingham
Oct 22nd: The problem noted below now seems to have been resolved.
Oct 19th - New Time Crystal Chapter Released: The Parisian Painter Part 2
Oct 18th: The message centre in the game is currently frozen; material requests cannot be accepted, nor gifts or new neighbours. Numerous support tickets have been filed with Playdom regarding this issue.
Oct.17th: iGoT Game forum member BJ Garden has taken our data on the best reputation/square for silver & gold purchased items and made a google.doc spreadsheet.
For future reference, you can find this link in the Upgrading Q&A section.
Oct. 12th: Chapter 24 released: Grave New World 20X20 Garden Expansion: $125,000 silver or 30g Edit: as of Oct 21st this purchase fee increased to 1,000,000 silver.
Oct. 9th: It has been discovered that the Mobile game only goes up to Level 89. One player finished Level 89, only to have the number roll-over to 1 and all new items locked.
Oct. 4th: New Premium Chapter released: Halloween: The Midnight Zone
It's offered for 40 gold (prices may vary).
New Blitz scenes : Prehistoric Caves, Day of the Dead, and Ancient Greek Games.
No expansion, no water tiles.
Oct. 2nd: Update in App store available, Ver 3.1
Fixes for Blitz mode and optimizations for smoother game play
---
Sept. 28th: Chapter 23 released: Apocolypse? How?
No expansion, no water tiles.
---
Sept. 26th update: you can request glass again. The materials to finish the time crystal buildings are still available, and while the time crystals do not show on the material request screen, just click on the purple time crystals next to your gold. You can't request from friends but you can buy more with gold if you want to.
Sept. 25th: Game was down for almost 10 hours today. Still no glass. Old time crystal materials are still showing. No new update, no new time crystal/regular/premium chapter, no expansion, no water tiles....all Mail erased. No idea what's going on.....
Torynn (talk) 01:49, September 26, 2012 (UTC)
---
Sept. 24th, The Parisian Painter: Part 1 has expired. So apparently has
glass
.....while the crystals have disappeared from the mat request screen, the ballerina shoes, bicyclettes, carousel horses etc., all remain. Hope everyone that wanted the Louvre were able to get it! For those that were unsure of getting the chapter done in 30 days, I was on vacation for ten of those days, and buying nothing with gold, I still managed to get it done.
Torynn (talk) 05:48, September 25, 2012 (UTC)
---
Sept. 21: Chapter 22 released "A Road to Eldorado". It's coming down to the crunch, without a grid expansion your garden must have an average reputation of 1456 per space, or you won't be able to open all of Chapter 22.
GARDEN EXPANSION & WATER TILES NEEDED!
Torynn (talk) 05:53, September 25, 2012 (UTC)
---
Sept. 14: Chapter 21 released "Time Agents & the Temple of Doom"
---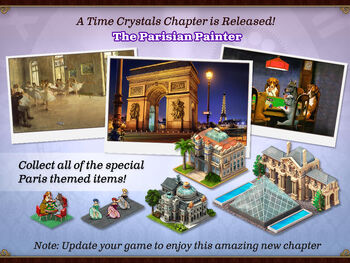 Aug 23rd: Time Crystal Chapters are here! Thanks TrixRN for sending along the photo :)
---
Aug 17th: Chapter 18 is released: Memoirs of a Time Traveller
---
August 13th: Added
Symbols
page to help new players sort out what's going on in their neighbours name.
---
August 10th: Chapter 17 is released: Fashionably on Time!
---
August 3rd, premium chapter released: Adventure in Paradise (Hawaii). TY for the photo Barb!
---
July 30th: as victry was the winner of our inaugural monthly themed garden, she got to choose the theme for August. She has chosen "war and/or peace". So start your imagination working, and collecting items you'll need to compete, time is of the essence!
---
July 27th: Chapter 16 released: A Journey Through Maritime. Do you have enough reputation to open all scenes?
Here's what's needed.
July 26th: New active symbols will be starting on Friday August 3rd. Many, in the Unofficial Forums, took a poll, and after carefully reviewing how we felt about using the active symbol "7" this month, it would appear that some players would like to try a MONTHLY SYMBOL and others would like to try a WEEKLY SYMBOL.
Should a player find it more convenient to change their symbol only monthly, then use the monthly symbols posted here. (from zazzis google.doc), for the month of August, it is %.
If a player wishes to change their symbol weekly, starting Friday August 3rd, the symbol will be @ and additional weekly symbols will be posted here.
Players are free to use one system or the other, you can request from whoever you want. It's completely open and transparent. Just a quick note on emoji's, if you are already using a Gift symbol in your garden name, please do NOT add the tent. If you are not using a gift symbol pls add the tent. The idea is for each garden to have at least one emoji so the iphone users can really spot the active players; but more than one is reduntant, and worse, it means no one can read your garden name (each emoji takes up 2 character spaces). Thanks, give the Unofficial Forums a visit and see if any of these changes interest you!
---
July 20th: Chapter 15, To Russia with Love is released. Do you have enough reputation to open all scenes?
Here's what's needed.
---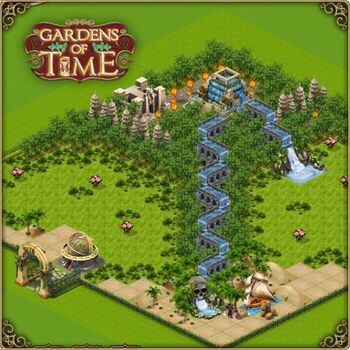 July 14th: Victry's July themed water garden was featured by Playdom on their Facebook page. Here is a link to the Facebook page , but look quick, their page changes frequently. Here is a pic of Victry's garden, and her comments on how she created it:
I think I had just trashed my garden for rep gain for Chapter 13 and was scratching my head thinking about what to do next. Luckily I saw a post by The Wolfe's Den suggesting a theme garden for July which ended up being water. I remembered seeing someone's garden (sorry can't remember which garden) who created a running water effect using aqueducts so I thought I could use that idea to make a river. My daughter's movie The Road to El Dorado provided the rest of the inspiration. I tried to use the bamboo in lieu of jungle and to soften the edges of the aqueducts. Happily Tapjoy provided the gold for the waterfall and pirate items. A little bit of tweaking with bushes, flowers, sand and palms and I had my water themed garden.
Kudos to those gardeners who made water themed gardens without water.
---
July 11th
Chapter 14, Camelot, released! Finally the leaderboards are fixed. Make sure you actually do the update in the itunes store or you won't see Sir Geoffrey.
Do you have enough reputation to open all scenes? Here's what's needed.
---
July 5th
Blitz scenes finally out! Check out the spoilers here. Premium Chapter Atlantis added.
---
June 24th, by =STRIPES=
Hi there! There is an update coming soon for Gardens of Time mobile; here is a quick rundown of
what's new: The Atlantis chapter is coming to mobile!
3 new blitz scenes
Leaderboards: Bug fix for missing names of leaderboard.
Various Bug fixes
I was able to acquire some previews of the new blitz scenes - hope you like them!